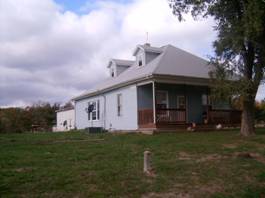 31.5 acres near Patterson, Illinois--Home included
1,128 square foot home in the country.
Has a full basement, 1 bath, and 2 bedrooms,
with 2 possible bedrooms unfinished upstairs.
Rural water and natural gas.
Farmland consists of 18 acres tillable, Fayette silt loam.
There is approximately 10 acres of pasture land.
Adjoins Patterson, 3/4 mile from Hank's Station.
List Price for the house and entire 31.5 acres: $160,000
Call for a brochure or a showing.