Premiere Land Services,
620 N. Main,
Carrollton, Il 62016,
phone 217-942-6966
fax 217-942-5252

E-mail: Premiere Land Services, Inc.

Charles E. Theivagt, Broker/Owner
Samuel L. Collins, Broker/Owner
E. Neal Carrico, Salesperson
Tom Benz, Salesperson
Guy Kinser, Salesperson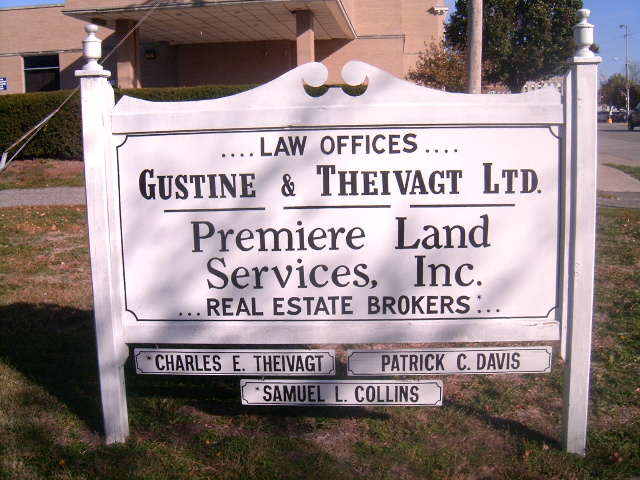 ---
INTRODUCTION TO PREMIERE LAND SERVICES, INC.
AND GUSTINE & THEIVAGT, LTD. STAFFS

Premiere Land Services, Inc. is an Illinois Business Corporation incorporated by Charles E. Theivagt and Samuel L. Collins. Charlie and Sam are licensed attorneys, real estate brokers and insurance producers.

Premiere is an established real estate brokerage and farm management service managing farms in Central Illinois. Charlie and Sam come from farming backgrounds and have been engaged in a rural law practice servicing agricultural clients with more than 38 years of experience.

Premiere shares office space with Law Offices of Gustine & Theivagt, Ltd., 620 North Main Street, Carrollton, Illinois 62016. Gustine & Theivagt, Ltd., is an Illinois Professional Corporation incorporated in June, 1977 and is currently owned by Charles E. Theivagt, associated with Patrick C. Davis and Samuel L. Collins, licensed attorneys. As attorneys, Charlie and Sam are uniquely equipped to provide as part of their farm management services legal drafting of leases, legal notices, crop and grain lien documents and other agricultural related documents.

INTRODUCTION TO PREMIERE'S STAFF

Premiere provides both legal and real estate sales and management services. Premiere's agricultural advisors, David Woods, Ronald Dowland and Chris Dowland are respected farmers in Greene, Macoupin and Morgan County, Illinois, having both college accreditation in agriculture and extensive farming experience. They own and lease more than 2,500 acres of farm land on both a crop share and cash lease basis and maintain detailed automated farm record systems.

Premiere was recently joined by Tom Benz. Tom recently retired from the Greene County Rural Development. He has more than 40 years experience in federal housing and farm finance, and is an excellent resource in matters of land valuation, financing, and marketing.

Premiere's hunting and timber management consultant, John Koster advises relative to the management of hunting leases, outfitting, wildlife habitats, recreational land management and timber management. John is an Illinois Licensed Outfitter independently managing and leasing 3,000 acres of hunting lands in central Illinois. John is a lifelong farmer owning, leasing and managing 1,000 acres and holds the office of Vice-President of Illinois Recreational Resources.

Patrick C. Davis is an associate attorney with the Law Offices of Gustine & Theivagt and has extensive estate, gift and income tax preparation experience. Patrick represents various banks, estate and collection clients and is experienced in agricultural contract drafting and in residential, agricultural and commercial lease law.

PERSONNEL RESOURCE ALLOCATION

Charles Theivagt and Sam Collins are responsible for contract review and drafting, preparation of legal notices, determining comparative cash rents and comparative farm values, conducting cash lease and/or sealed bid auctions, overseeing farm advisors' field activity, maintaining client accounts, and advising, reporting and communicating with our farm clients.

David Woods, Ronald Dowland and Chris Dowland are assigned specific farms by geographical area having approximately equal aggregate acreages. They work directly with existing tenants, photographing improvements, gathering fertility test data, fertilization records, crop production records, communicating capital improvement needs such as tiling, maintenance of drainage ditches, terraces, dry dams, waterways and auditing lease compliance, soil conservation practices, tillage practices, and the like. They conduct at least two routine farm visits per year at or near planting and harvest time, establish and maintain good tenant relations, make recommendations concerning capital repairs and improvements, supervise the completion of repairs and improvements as needed, and maintain up to date records of planting practices, fertility, chemical application, production and return on investment and prepare reports at least annually to be incorporated within the annual farm management report.

Tom Benz is assigned to inspect farms and render opinions and recommendations as to valuations and government programs.

John Koster is assigned to access and manage hunting leases and advise and manage timber properties for recreational and commercial hunting and wildlife management on an as needed basis. John also offers independent outfitter services, private quail and pheasant hunts by appointment and lodging. He may also be contacted at info@kosterfarmshuntingclub.com.

OUR PHILOSOPHY

We believe that farm management should secure and maintain consistent, predictable and competitive annual lease income for the Owner while at the same time increasing the overall value of the farm assets.

We believe that good farm management requires careful selection of new tenants and establishment and maintenance of good working relationships with existing tenants, development of good tillage and soil stewardship practices, application of up to date farm husbandry methods, maintaining compliance with agreed farm tillage practices and lease obligations and careful documentation and reporting of farm productivity, lease compliance, and comparative market analysis of farm rents and sales values.

Long term increases in farm productivity and asset appreciation must necessarily emphasize maintenance of optimal soil fertility and stabilization, maintenance of functional capital improvements, eradication of noxious weeds, saplings and pests, maintenance of farm borders and waterways for aesthetic attractiveness, and consistent monitoring of changes in productivity, return and asset value.

MANAGEMENT PLAN

Our initial objective is to examine the existing lease arrangement to determine comparative cash lease values for the managed property based upon productivity, soil type, drainage and other factors, audit the current use of the land to determine whether all available acreages are in production, whether fertility levels are being maintained for optimal production, whether productivity is hampered by wet spots or erosion and examine the overall features of the property.

Our farm advisors are assigned specific farms for which they are responsible to establish and maintain good owner/tenant relationships. We believe our farm advisors, as farmers, relate well to other farm operators. Their function is to inspect and document existing tillage, crop rotations, fertility applications, chemical applications, weed and pest control practices, productivity levels and maintenance of waterways, drainage ditches, levies and borders.

Our farm advisors make two routine farm visits per year to visit personally with the tenant, inspect the premises and gather data. Utilizing Excel farm records software, our farm advisors prepare detailed informational reports for incorporation into a comprehensive farm management report.

Our annual farm reports typically will include the following information:

(1) A profile of the subject farm to include statistical information regarding tillable, pasture, wooded and homestead acreages, soil types, fertility reports, crop rotation practices per field and an inventory of improvements to include photographs, demographics, plat and map references.

(2) A tenancy profile of the subject farm to include the farm's rental history and existing lease arrangement.

(3) Our opinion of comparative cash lease values of similar farms leased in the area and comparative market values of similar farms sold in the area.

(4) Our assessment of the functional value of capital improvements and recommendations concerning repairs, sale or removal.

(5) Our assessment of tenant tillage and farm husbandry practices, compliance with lease requirements and recommendations regarding current rents.

(6) A summary of income and expenditures for the agricultural year, budget projection for the next crop year and return on investment analysis.

(7) Such other matters as may arise during the course of the lease year.

LEASES

We understand that good farm management requires excellent communication between landlord and tenant. As professional farm managers, our first objective is to determine the landowner's priorities and to seek a tenant who will meet those priorities, or, to work with the existing tenant to meet those priorities. The key to achieving the landowner's objectives is to develop a farm lease which meets those objectives.

As agricultural attorneys, farm managers, and licensed real estate brokers we are uniquely qualified to provide lease drafting, termination notices, lien documentation, bid advertisements, to conduct sealed bid sales and to prepare, review and advise our client regarding an array of legal matters affecting the farm lease operation as part of our basic farm management service. It has been our experience that good business documentation often avoids misunderstandings that lead to disputes.

SPECIFIC SERVICES

Premiere Land Services, Inc. can provide all or any portion of the following specific services as desired by Owner:

1. Become thoroughly familiar with each farm and its current operator and make recommendations to the tenant regarding tillage, fertilization, crop rotation and other basic operating practices.

2. Locate qualified operators as needed, negotiate rents and lease terms and prepare lease documentation expressive of those terms.

3. Collect all rents on each farm, retain a budgeted amount from each farm to meet anticipated annual expenses and disburse all remaining funds to the Owner within five (5) business days.

4. Pay all real estate taxes, insurance expenses, and approved capital expenditures or repair costs as they come due.

5. Render an annual income and expense statement to the Owner indicating income received and expenses paid.

6. Closely monitor soil fertility, pesticide/herbicide application, and tillage practices for each farm and maintain records of each.

7. Inspect and inventory capital improvements and make recommendations regarding major repairs and improvements, and oversee routine repairs as needed.

8. Purchase farm liability insurance and make recommendations on insuring out buildings.

9. Provide comprehensive annual reports for each farm.

10. Provide real estate brokerage and farm consulting services on subject farms on an ongoing basis.

11. Insure that the tenant remains in compliance with all applicable laws and regulations and remains in compliance with all terms of the lease.

12. Determine optimum crop rotation and tillage practices which meet the owner's needs, are in compliance with government regulations, and are beneficial to the long-term value of the farm.

13. Recommend appropriate measures for land-use restrictions and assist with their implementation.

14. Provide legal services incidental to drafting leases, security agreements, notices to terminate and related farm operating agreements as the need arises.

15. Monitor participation in all government programs.

16. Manage all improvements on the farm, including negotiation, drafting and supervision of rental agreements.

FARM MANAGEMENT FEES

Our farm management fees are typically based upon a percentage of rent and vary depending upon the nature of the operation, the size of the operation and the specific services requested by the Owner. Our farm management fees are minimal in comparison to our client's increased annual rental income and increased productivity and land values.

We provide sealed bid land sales services at a percentage of the gross sales price or flat fee and sales by private listing agreement at a percentage of gross sales price with Premiere to pay all advertising expense.

We typically offer discounts for sealed bid and listed sales of managed properties.

OTHER MATTERS
CALCULATION OF FARM VALUES/CASH LEASE RATES

Premiere receives bi-monthly reports of farm sales throughout the State of Illinois. Additionally, we are in frequent communication with other real estate brokers and farm managers throughout the State. We utilize a similar procedure for determining cash rents, also consulting local Department of Agriculture Farm Service Agencies and University of Illinois agricultural data. With historical data concerning farm fertility levels and average annual production levels we can negotiate competitive rent agreements with existing tenants or solicit bids, if necessary.

Premiere is a real estate brokerage and farm management firm committed to providing excellent service. Premiere was developed in order to complement our existing rural agricultural law practice and title business. It has proven more than successful in allowing us to provide more and more services to our farm owner clients. Our management team has both experienced and young members to bring experience, consistency and longevity to our firm.

Please give us a call at (217) 942-6966.